RESUME

Scott has a large list of past projects, clients, and advertising & marketing experience.

Scott Shaw!

Award-winning animation producer, director, writer, cartoonist and pop-culture expert. Extensive expertise in animation, comic books, publishing, advertising, and toy and premium design, in a wide range of approaches.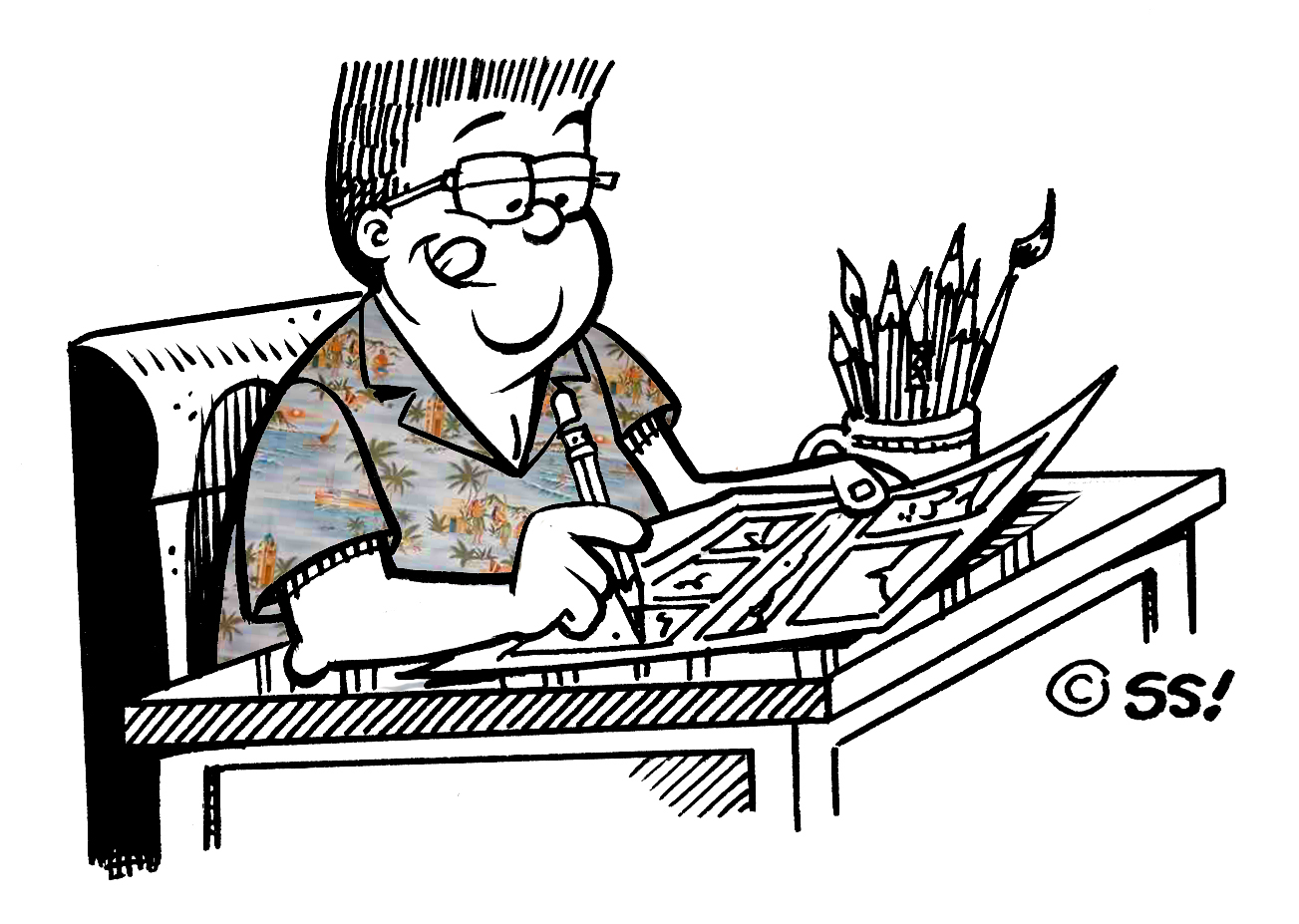 Awards & Honors

4 Emmy Awards 
Story Director:  Jim Henson's Muppet Babies
Humanitas Award 
Producer:  John Candy's Camp Candy
3 Eisner Awards
Writer/Artist: Bart Simpson's Treehouse of Horror #5.  Best Humor Publication
Writer/Artist:  Simpson Comics.  Best Humor Publication for Younger Readers
Contributing Writer/Artist, The Big Book of Urban Legends.  Best Anthology
Shazam Award
Best Comic Book Humor Art
Squiddy Award
Superman & Batman: World's Funnest
Inkpot Award
Outstanding Achievement in Comic Books & Animation
NOMINATIONS – Grammy, Best Art Direction Weird Tales Of The Ramones; Eisner: Best Comics-Related Product, Scott Shaw's ODDBALL COMICS! Trading Card set; Reuben: Television Animation Division; Annie Nomination: Outstanding Art Direction, Post Pebbles Cereal commercials
Career Highlights

Animation

Storyboards, Layouts, Designs, Gags or Story Development

Dexter's Laboratory
Inspector Gadget
Mulan II
The Flintstones
Jim Henson's Muppets, Babies and Monsters
Family Guy
The Pink Panther
Fantastic Four
Disney
Film Roman
Hey Arnold!
Garfield And Friends
Warner Bros. Animation
Marvel Productions
Cartoon Network
Comics

Writing and Illustrations

Bongo Comics Group:
Simpsons Comics
Bart Simpson Comics
Bart Simpson's Treehouse Of Horrors
Simpsons Super-Spectacular
Simpsons Summer Shindig
Radioactive Man
Futurama calendar
Marvel  Comics:
The Flintstones
Yogi Bear
Laff-A-Lympics
What If?
DC Comics:
Captain Carrot and his Amazing Zoo Crew! (Co-Creator)
Teen Titans
Superman & Batman: World's Funnest
Super Friends
Looney Tunes
Cartoon Network Action Pack
Who's Who in the DC Universe
The Big Book of Losers
The Big Book of Urban Legends
Other:
Shrek Forever After
Sonic The Hedgehog
Betty & Veronica
Little Archie
Destroyer Duck
Mighty Mutanimals
Teenage Mutant Turtles
Weird Tales Of The Ramones
Usagi Yojimbo
Tex Avery's Comics & Stories
Tex Avery's Droopy
Tex Avery's Screwball Squirrel
Burger King Kids Club Comics
The Adventures Of Scooter McDoogal
Streetwise (Eisner Award winner)
Spark Generators
"Now It Can Be Told!"
The Adventures of Captain Rochester (promotional giveaway)
Many stories for such underground "comix" Fear and Laughter, Forbidden Knowledge and Savage Humor, etc.
Advertising

Concepts, Designs, Artwork for ads, catalogs, premiums and packaging

Buena Vista Home Video
Burger King
Carl's Jr.
Days Inn
Denny's
Discovery Zone
Folger's Coffee
General Foods
Hardee's
Jim Henson Productions
Keebler
Kellogg's
Kraft Foods
McDonald's
Pepsi
Post Alpha-Bits
Professional Experience

Current  and Ongoing:     
Writer/Artist, Rochester Electronics
Captain Rochester print-ads, style guide and promotional comic books
Writer, Bongo Comics
Simpsons Comics, Bart Simpson Comics, Simpsons Summer Shindig
2009
Layouts, DC Comics
DC Super Friends No. 14
Writer, Ape Entertainment
Shrek Forever After graphic novel
Storyboards/gag writer, Disney 
Beverly Hills Chihuahua 2
2008 
Writer/Artist, Rhino Entertainment
Weird Tales Of The Ramones CD/DVD boxed set
Grammy nominee for Best Art Direction
Concepts, storyboards, layouts Dig Comics documentary Illustrator  
EP cover art for Backline's Full Frontal Assault
Layout Artist/Cover Inker, Education Comics, Inc.
The Adventures of Scooter McDoogal comic books
2007 
Storyboard Artist, Porchlight Entertainment
Tutenstein:  The Movie
Artist, Warner Bros.
Looney Tunes
Co-Creator, Co-Writer, Artist, DC Comics
Captain Carrot and The Final Ark!  3-issue miniseries
Storyboard Artist/Character Designer, Educational Adventures
Danger Rangers
Storyboard Artist, Cartoon Network
Class Of 3000
2006 
Artist and Designer, McFarlane Toys
Hanna-Barbara and Simpsons action figures
Storyboard Artist/Character Designer, Warner Bros. Animation
Johnny Test
Storyboard Artist, Warner Bros. Animation
Krypto the Superdog
2005
Storyboard Artist, Disney
Jake Long: American Dragon
2004 
Storyboard Artist, Warner Bros. Animation
What's New, Scooby-Doo?
2002
Gag-Writer/Storyboard Artist, Disney
Mickey's Twice Upon a Christmas
Storyboard Artist, Animax Entertainment
The McKenzie Brothers, starring Dave Thomas & Rick Moranis
Scott is Always Open
to Exciting New Projects!

Have something you think he might be interested in?
Contact him below to let him know the details.